Product Description
Durable Concrete is our range of everyday concrete for a vast range of uses, from villas to commercial and industrial developments. CEMEX has the experience, quality and capacity to support your needs, whatever the size and scope of the development. We have over 20 years of experience in designing concrete for the harsh climatic conditions in the UAE. Our concrete solutions can resist the harshest environmental conditions, extending the lifespan of structures.
Properties
Last longer, extending building life and enabling reuse of structures
Low water/cement ratio
Resistant to chloride penetration
Resistant to sulfate attack
Low permeability and dense micro-structure
Benefits
Produced under a third party approved ISO 9001 quality management
Reduced maintenance requirements and lifetime cost
Technical support from a dedicated team
Supported by a global research and development program to ensure the best performance
CEMEX has proven ability to supply to any size of contract, from small scale deliveries to the largest landmark project
Application
Patios
Swimming Pool Area
Path Ways
Drive ways and parking areas
Landscaping and green areas
Technical Data
| | |
| --- | --- |
| Concrete Grade (N/mm2) | 30 to 80 |
| Durability (RCP, WP, WA) | 800 to 3000, 10 to 20mm, 1.0 to 1.5 |
| Workability Slump (mm) | 75 to 200 |
| Workability Retention (Hours) | up to 3 |
| Maximum Aggregate Size (mm) | 10 to 20 |
| Typical Hardened Density (Kg/m3) | 2,450 |
| Cement Types | OPC, SRC, MSRPC |
| Supplementary Cementitious Materials | DURACEM® / Micro silica |
| Colours | Grey or Colored |
How to use
Durable Concrete is manufactured from our plant following the relevant International standard, upon delivery concrete should be applied within 45 minutes of truck arrival to ensure best performance.
Performance footprint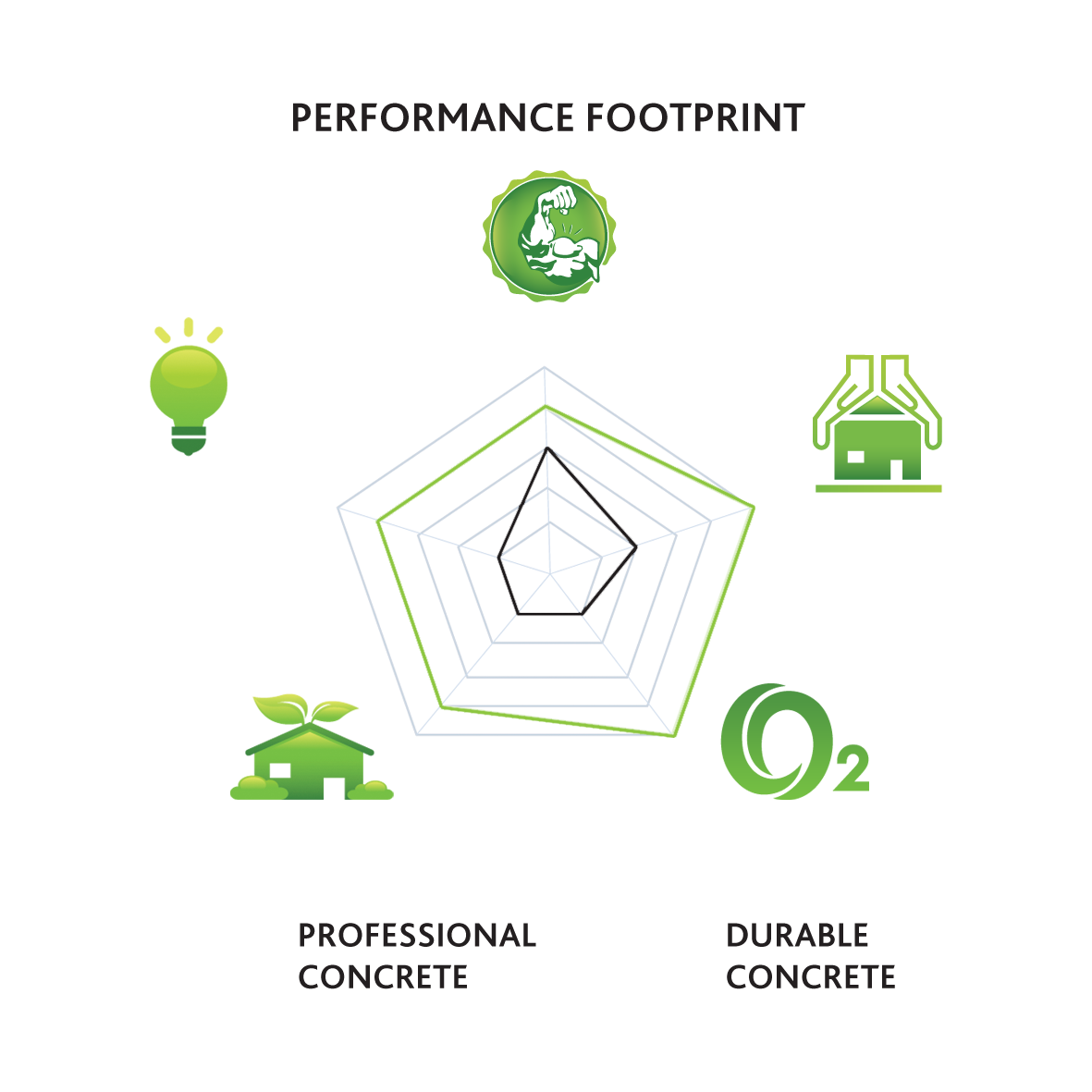 You have questions?
If you have questions, please contact our Product Specialist.