Product Description
Steel Fibre Concrete utilises steel fibres designed to provide ultimate performance under intense loading conditions. This fibre system provides superior resistance to cracking in hardened state concrete, as well as maximum resistance to damage from heavy impact and dynamic loading.
Properties
Increase flexural toughness / residual strength
Provides post-crack performance
Improves plastic properties of concrete
Increased impact and abrasion resistance
No requirement for crack control steel mesh
Concrete placement and crack control in ONE operation
Cost effective alternative to conventional steel mesh reinforcement
Controls cracking which occurs in the hardened state
Even distribution of fibres throughout the concrete
A tougher surface with fewer bleed holes
Benefits
Increased load bearing capacity of concrete
Potential reduction of concrete slab depth
Concrete retains load carrying capability after cracking has occurred
Increased durability and reduced maintenance costs
No need to purchase and store additional material
No delays to fast track schedule
Easier positioning of joints
Reduced site labour requirement for on-site handling and cutting of steel reinforcement
No secondary steel mesh is required and reinforcement is automatically positioned
Reduced project costs
Enhanced load bearing capability
Improved flexural properties
Reduced absorption of water, chemicals etc.
Application
Heavy duty flooring applications – internal & external
Civil Engineering applications
Elevated composite metal decks, bridge decks, mass foundations
Jointless industrial floors
Overlay, patch repairs
Walls
Conventional rebar replacement
Technical Data
| | |
| --- | --- |
| Concrete Grade (N/mm2) | 30 to 80 |
| Durability (RCP, WP, WA) | 800 to 4000, 10 to 20mm, 1.0 to 3.0 |
| Workability Slump (mm) | 75 to 200 |
| Workability Retention (Hours) | 1 to 3 |
| Maximum Aggregate Size (mm) | 10 or 20 |
| Typical Density (Kg/m3) | 2,450 |
| Cement Types | OPC, SRC, MSRPC |
| Supplementary Cementitious Materials | GGBS / Micro silica, PFA |
How to use
The concrete can be compacted and finished normally.
Troweling embeds the fiber into the concrete surface.
Concrete with fiber can be pumped in most cases, but some mix design adjustments may be necessary.
Performance footprint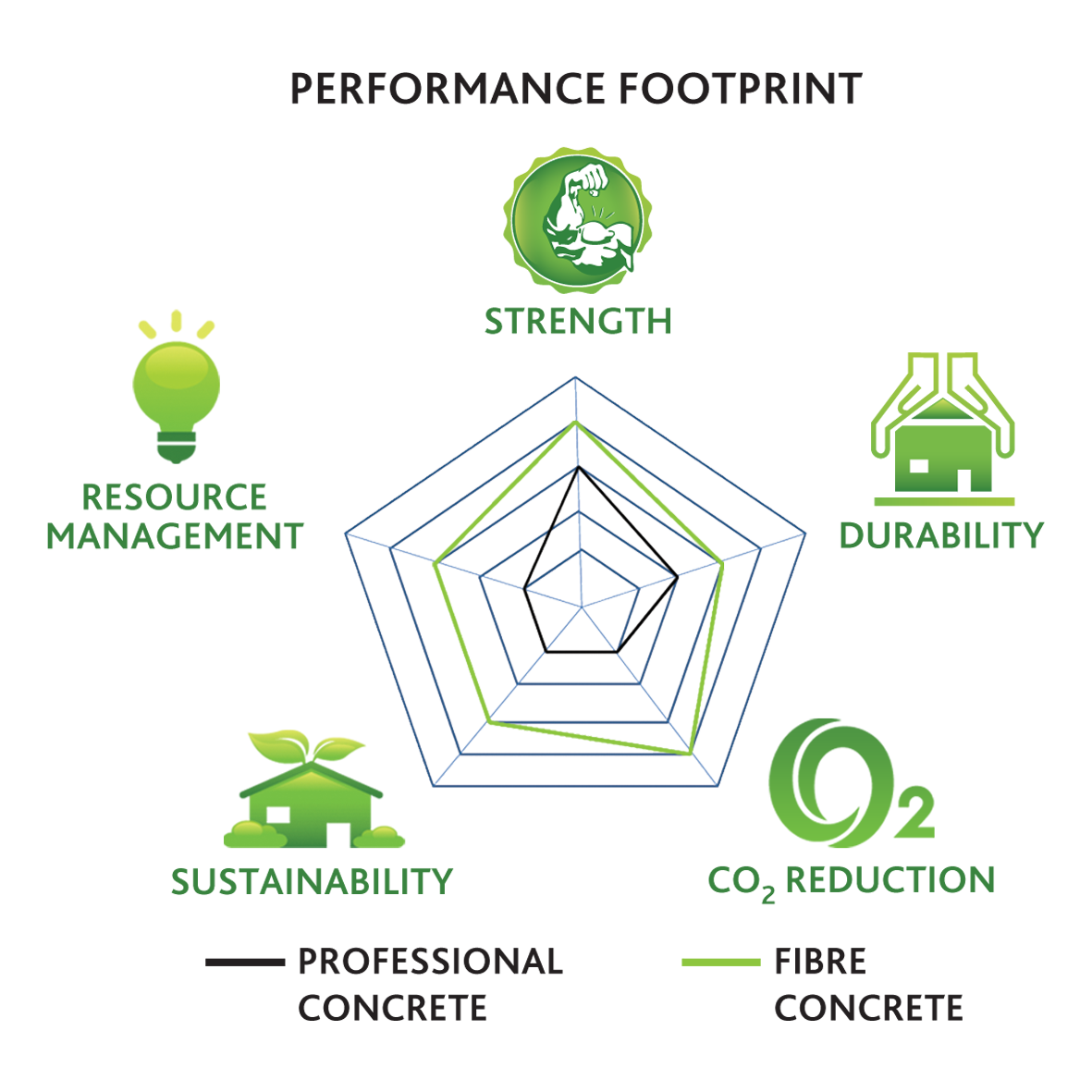 You have questions?
If you have questions, please contact our Product Specialist.