Product Description
CEMEX DECORATIVE CONCRETE PAVEMENT is an efficient and very cost-effective solution that can be engineered to suit your project needs. Decorative pavement can be designed to complement your unique style into your interior and exterior areas. We offer Supply and Apply solutions that are tailor made project by project and carefully executed by certified applicator.
Solution we offer
STAMPED CONCRETE PAVEMENT
The easily constructed solution for urban spaces that require textures and drawings.
SURFACE TREATMENT PAVEMENT
The anti-slip easily maintained solution that allows a wide range of textures and finishes.
COLORED CONCRETE PAVEMENT
The solution for people looking for an aesthetic difference by color.
PAVEMENT WITH EXPOSED AGGREGATES
The solution that provides attractive surface finishes.
Properties
High quality concrete mix
The aesthetics of concrete pavements matched to the needs of the project
High resistance to external factors
Flexibility in shaping the surface
Benefits
High durability of concrete pavements
Easy to maintain and keep clean
The unique character of the building
Guaranteed quality concrete pavements
Service when choosing a solution
Variety of colors and textures
The usage of supplementary cementitious material is possible hence compliant with DM Circular 202 & Estidama
Application
Patios
Swimming Pool Area
Path Ways
Drive ways and parking areas
Landscaping and green areas
Technical Data
| | |
| --- | --- |
| Flexural Grade (N/mm2) | 3.0 to 6.0 |
| Slump (mm) | 30 to 150 |
| Slump Retention (min) | 45 to 120 |
| Maximum Aggregate Size (mm) | 20 to 40 |
| Typical Hardened Density (Kg/m3) | 2,400 |
| Cement Types | OPC, SRC, MSRPC |
| Supplementary Cementitious Materials | GGBS / Micro silica, PFA |
How to use
Please contact our Product specialist to know more about how to use and application techniques available.
Performance footprint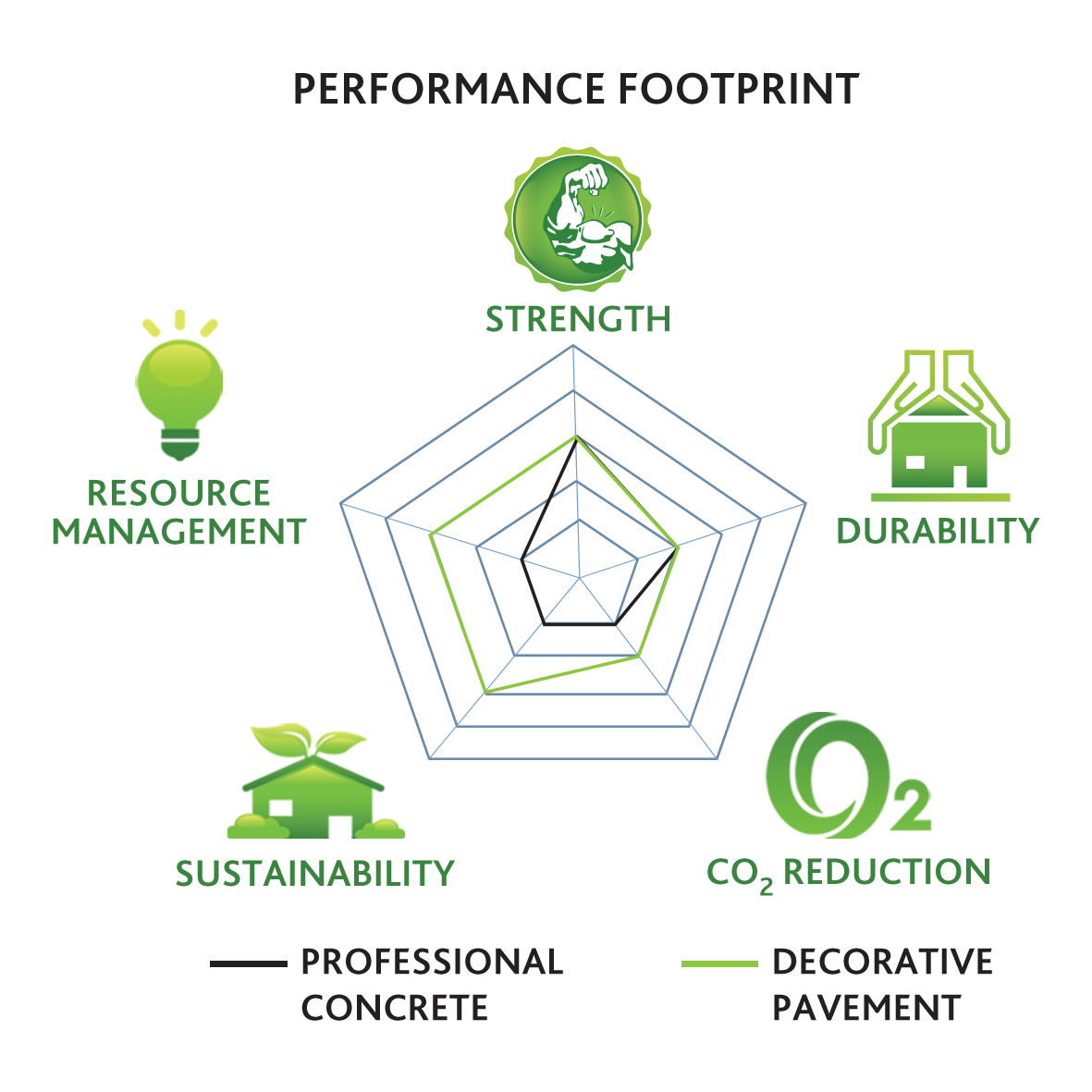 You have questions?
If you have questions, please contact our Product Specialist.