Product Description
CEMEX Shotcrete is a specially designed concrete developed for use with compressed air spraying equipment. Shotcrete is a fast and effective way to apply concrete in areas where using conventional concrete would be difficult. CEMEX Shotcrete also forms an integral part of an innovative low cost, low carbon housing solution.
Properties
Rapid construction method
Can be applied in any shape
Elimination of formwork
Benefits
Savings in time and labour
Reduction in wastage
Can make shapes that are hard to achieve with conventional concrete
Reduced cost from elimination of formwork
Storage area not required for formwork
Craneage not required for formwork
Application
Swimming Pools
Domes
Skateparks
Repairs of damaged concrete surfaces such as walls and structural members such as beams, columns and connections
Tunneling
Rock and slope stabilization
Technical Data
| | |
| --- | --- |
| Concrete Grade (N/mm2) | 5 to 40 |
| Durability (RCP, WP, WA) | Not required |
| Workability Slump (mm) | 75 to 200 |
| Workability Retention (Hours) | 2 to 8 |
| Maximum Aggregate Size (mm) | 5 or 10 |
| Typical Hardened Density (Kg/m3) | 2300 |
| Cement Types | OPC |
| Supplementary Cementitious Materials | Duracem ® |
| Colours | Grey |
How to use
Two different processes are used, either the wet process or the dry process.
In the wet process, all the concrete constituents are batched and mixed together before being fed into a pump. The mixed concrete is conveyed under pressure to the nozzle where compressed air is injected, shooting the concrete into position.
In the dry process, only the dry ingredients are batched together and pumped under pressure to the nozzle. Pressurized water is introduced at the nozzle, which, along with the force from the pump, projects the concrete into the area being repaired. The addition of water is therefore under the control of the nozzle operator in the dry mix process and the end product tends to be more variable.
Performance footprint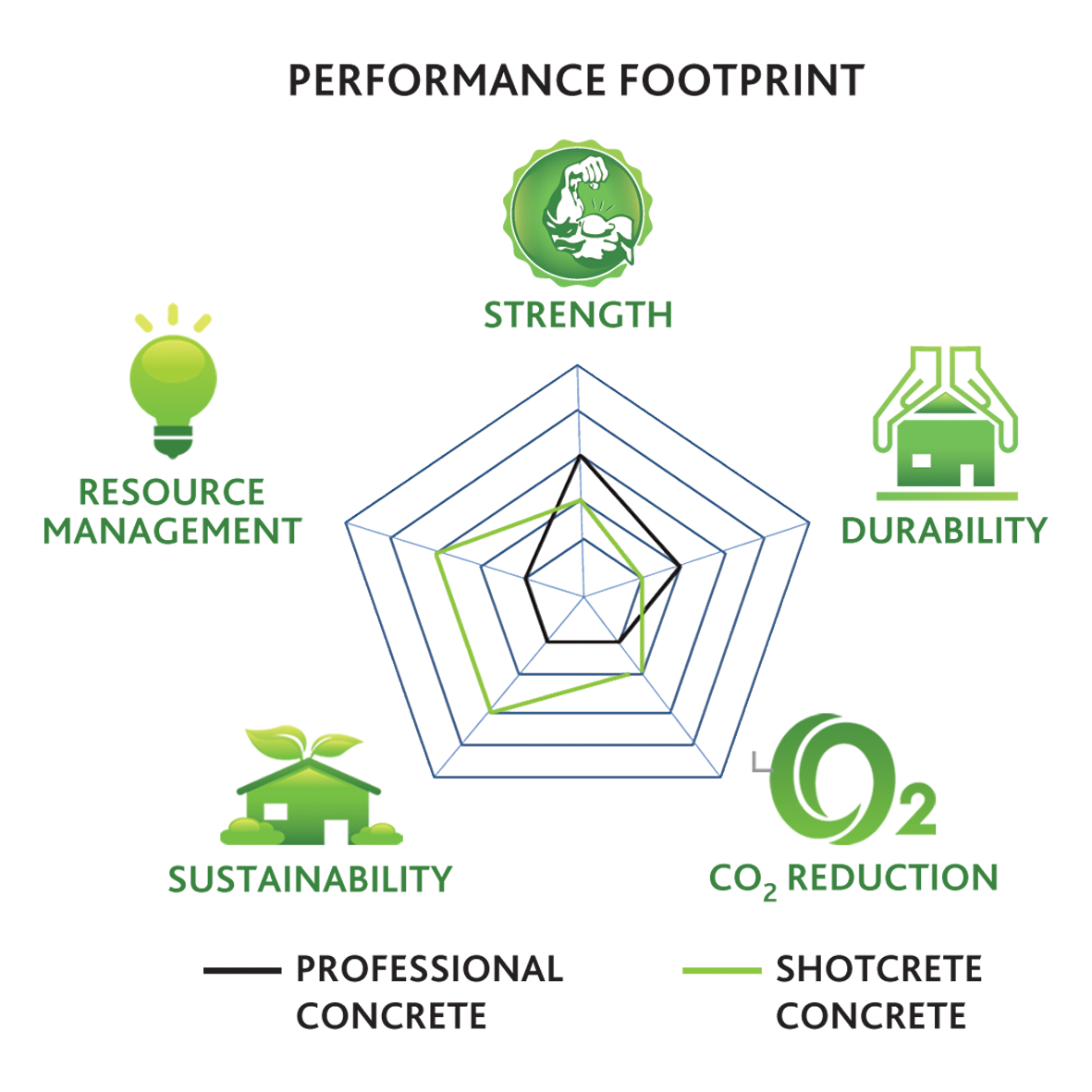 You have questions?
If you have questions, please contact our Product Specialist.